Porcelain floor tiles are known for being a beautiful, durable, practical and versatile flooring material.
At TileArte, you're sure to find the perfect finish for your floor.
With TileArte's vast array of choices in terms of design, finish, texture and colour, you can use your floor as your canvas and set your creativity and imagination free.
TileArte's range of tiles in Sydney have everything you need when it comes to porcelain tile flooring. Our high-quality porcelain tiles perfectly mimic traditional flooring materials like marble, wood, granite and other natural stones, so whatever your design inclination, TileArte has the floor tiles in Sydney you need.
Benefits of Porcelain Floor Tiles
Porcelain floor tiles make for excellent floor tiles as they possess the following qualities:

Extreme durability
If you are going to invest in a flooring project for your home or business, you want a new floor that'll last for years. High-quality and professionally installed porcelain floor tiles can last for decades — sometimes for as long as 50 years!
Design flexibility
The porcelain tile manufacturing process gives these tiles a superior ability to mimic all kinds of building materials, including wood, natural stone and metal. At TileArte, our high-quality porcelain tiles are crafted to the highest standards — making it difficult to tell the difference without close examination. The stylistic versatility of porcelain also makes it possible to produce outstanding tiles in various hues and textures suitable for both residential and commercial applications.

Easy Maintenance
With porcelain being one of the toughest flooring options available, cleaning and maintenance are a breeze. Porcelain is typically resistant to most types of environmental stresses, including adverse weather conditions and high-traffic environments (provided you use the appropriate grade for your project). Since porcelain is quite resistant to liquid penetration, spills can be spot-cleaned using only a damp rag, whilst regular sweeping is enough to keep dust and debris off the floor. Porcelain tile surfaces are also very easy to disinfect. However, you still need to take care of the grout lines and make sure it is sealed properly to prevent damage from wear and tear and protect it from humidity and
moisture corruption
. We usually advise owners to keep an extra box (or two) of the porcelain tiles they choose to make colour matching easier in the future. So if a tile does get damaged, you can easily remove the piece and replace it with another tile from the same product set.
Cost
High-quality porcelain tiles may require some investment; however, they are relatively more affordable than the natural materials that inspire their design. By mimicking the look of wood, metal and stone, porcelain tiles offer home and business owners more options to achieve their design objectives. They also provide all the benefits of porcelain tiles and none of the weaknesses or flaws associated with such natural materials.
The Best Floor Tiles in Sydney
Looking for porcelain floor tiles that resemble natural marble, stone or timber? At TileArte, you get choices without limits with our vast collection of porcelain floor tiles designed to resemble traditional natural flooring materials.
Floor Tiles Sydney from TileArte provide home and building owners the opportunity to achieve their vision for their space.
You can go subtle and subdued by choosing porcelain tiles that resemble cool, muted stone. You can also go psychedelic or bright and colourful with patterned or ornately designed tiles. Alternatively, you can go classic and elegant with the look of marble or terrazzo.
With our extensive tile collection at TileArte, your design options are virtually endless.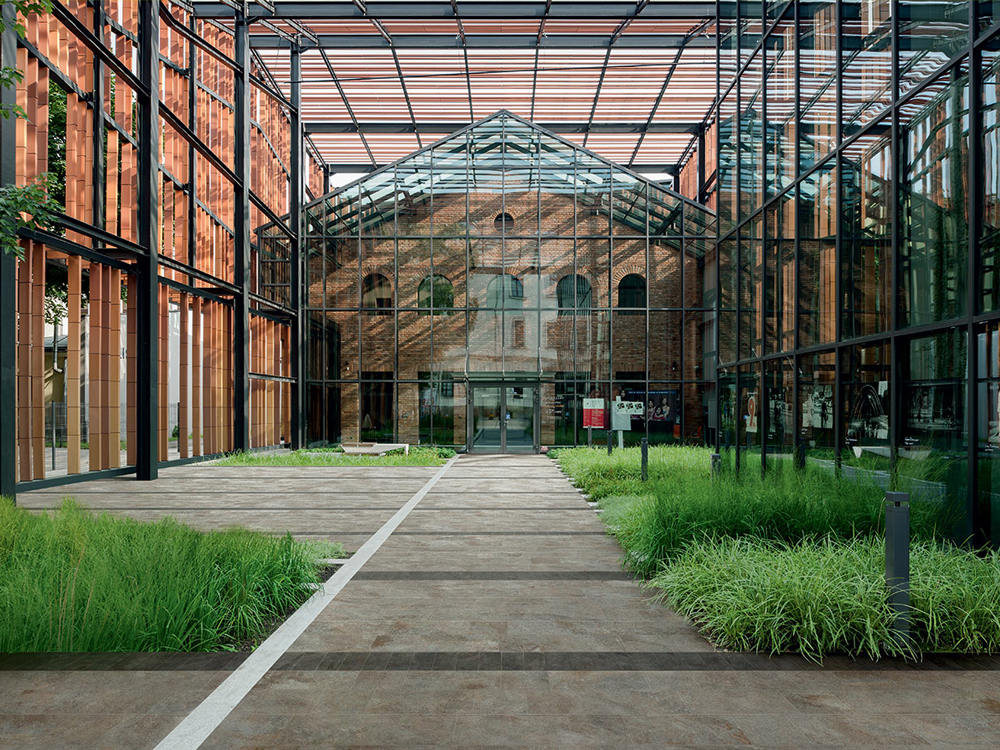 Eikon Tiles
The Eikon stone-effect porcelain stoneware tile series captures the natural beauty of stone weathered by the elements, whilst imbuing it with the most desirable technical qualities of porcelain.
If you're on the lookout for floor tiles with the authenticity of natural stone and are available in a wider colour spectrum, Eikon is one of the best materials to consider. It comes in four natural-looking tints: Titanio, Gea, Aeras and Grafitis.
With its anti-slip properties and low moisture absorption level, Eikon performs well even in wet conditions and external applications. It is also resistant to abrasion, frost and chemical agents. And since Eikon tiles are 100 per cent Italian made, you are assured of premium quality and craftsmanship.
Hike Tiles
Hike is a wood-effect porcelain tile collection made in Italy that successfully melds the natural elegance, warmth and beauty of wood with the best qualities of porcelain.
The Hike tile series comes in a number of delicate shades such as Light, Nuance, Lodge and Lumber, with each colour available in Grip and Matt finishes. These colour options and finishes lend Hike porcelain tiles a high level of versatility, making it a great flooring material for indoor, outdoor and high-traffic residential and commercial environments.
Floor tiles in the Hike series are also hypoallergenic, VOC free and fireproof.
Milano Tiles
The Milano collection includes cement-effect and colour-effect tiles that are ideal for contemporary design sensibilities. Milano floor tiles impart a soft resin effect to various indoor residential surfaces such as floors, bathrooms and even kitchen splashbacks. Its matt finish also makes it a material of choice for restaurants, cafes, retail shopping centres and hotels, among others.
Milano floor tiles come in five shades: Beige, Bianco, Corten, Grigio and Tortora. All colours are available in satin and matt finishes in varying sizes.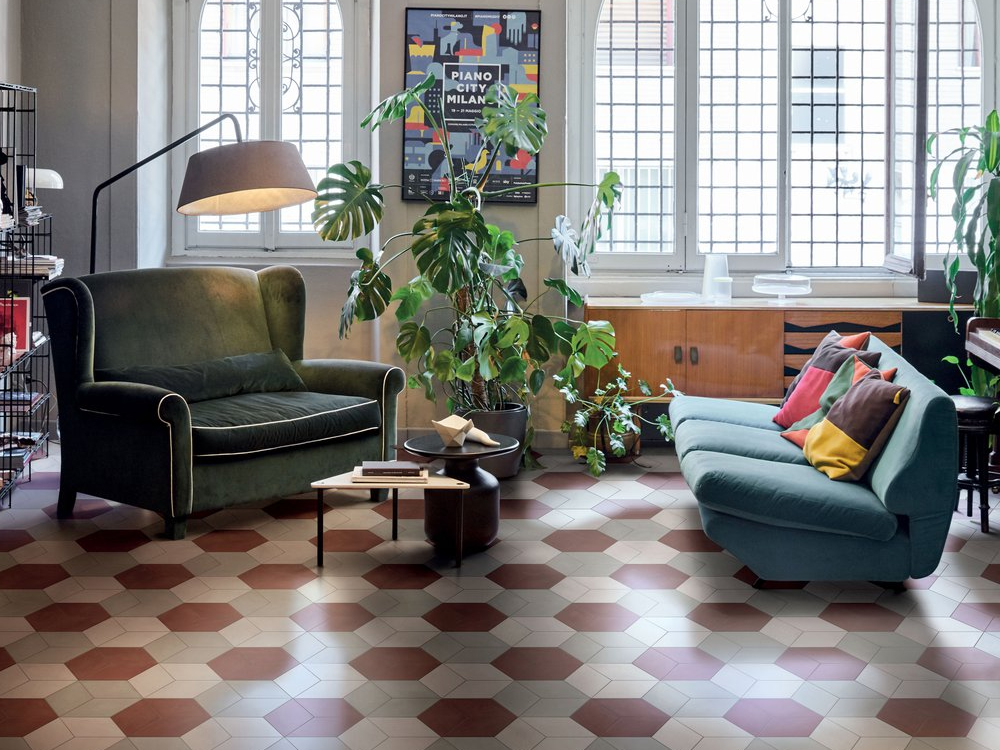 Ossidi Tiles
Ossidi colour-effect and metal aged-effect porcelain tiles for floors and walls are characterised by arresting, solid colours and gorgeous graphics. Aside from being available in the classic 20×20 cm size, Ossidi can be had in an 18.7×32.4 cm diamond shape, lending it a special design versatility.
The Ossidi floor tile collection is available in five distinct on-trend colours: the neutral Bianco, Grigio and Nero and intense Celeste and Vinaccia. You can choose from five deco designs, namely Cardinale, Cornice, Corona, Fiore and Intarsi.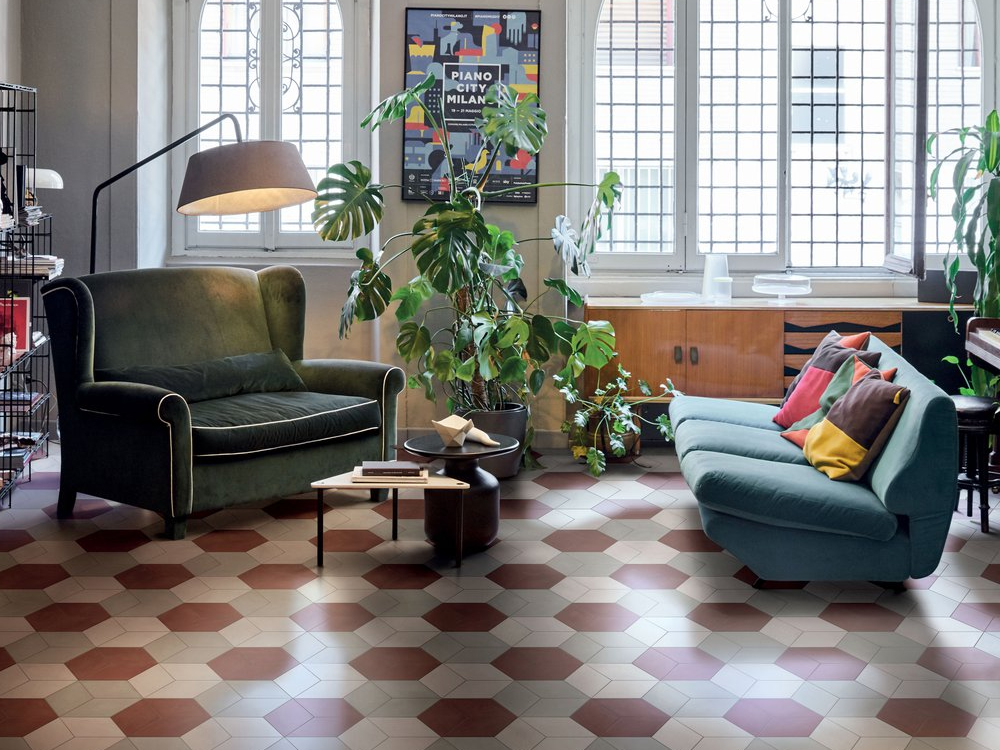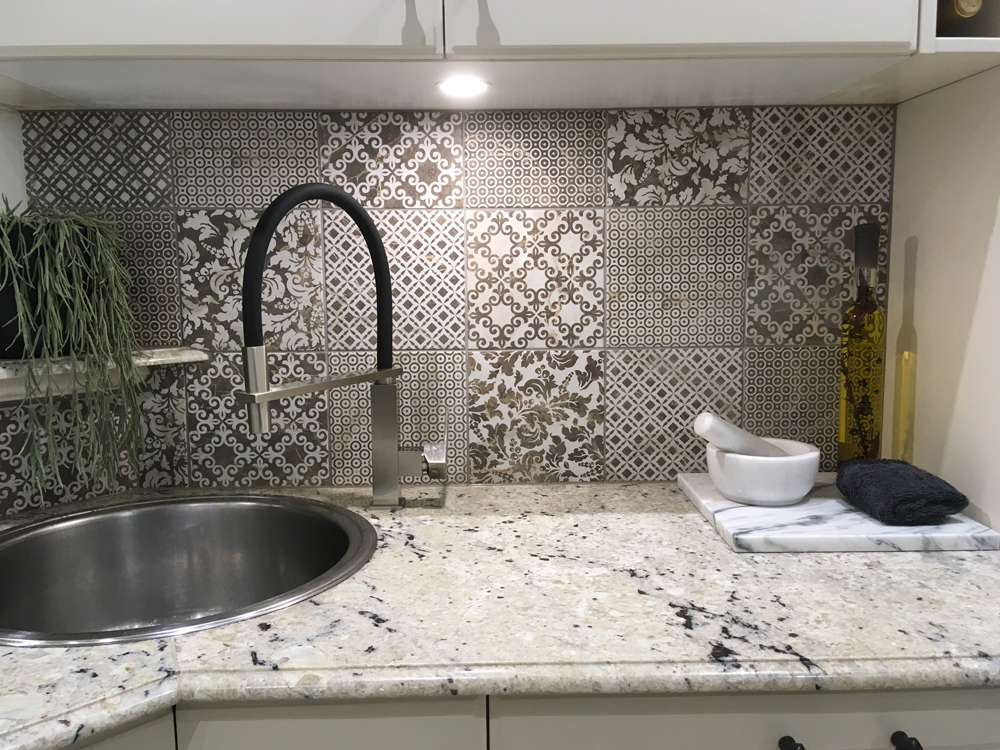 Roma Tiles
The Roma collection of marble-effect and travertine-effect porcelain floor tiles present the classic beauty of finished marble for contemporary applications. Charming and sophisticated, the Roma collection floor tiles are style-appropriate for a range of residential and commercial flooring projects.
This porcelain stoneware series comes in six delicate shades that perfectly capture the natural effect of marble: Grafite, Statuario, Calacatta, Imperiale, Pietra and Travertino.
Roma also includes a range of inserts and mosaics designed for floor and wall applications.

Enquire About Our Floor Tiles Today!
Whatever your flooring material requirements, TileArte porcelain floor tiles in Sydney are sure to tick all the right stylistic boxes and satisfy your technical criteria. View our full collection of floor tiles here.
Drop by our showrooms at Punchbowl and Willoughby to view our extensive collection or check out our product gallery online.
To set an appointment or get answers to your queries, call +61(2) 9759-6144.