For wet areas like the bathroom, your foremost priority is safety with bathroom tiles as slips and falls are a likely occurrence in this part of your home.
Of course, you also want to ensure your bathroom has a Zen-like atmosphere since it's your personal haven away from the everyday worries of life. After all, it's where you can have a reinvigorating shower or a relaxing soak or bath after a stressful, tiring day.
TileArte bathroom tiles in Sydney tick all the right boxes when it comes to design, safety and aesthetics. Choose from our collection of bathroom tiles suitable for a range of designs and preferences.
Advantages of Porcelain Bathroom Tiles
Porcelain tiles are the ideal bathroom tiling option as they are made of heavier, denser clay that's subjected to high heat and baked for much longer than typical ceramic tiles. This process gives them exceptional resistance to ambient moisture and makes them highly impervious to water.
With TileArte porcelain bathroom tiles, you can enjoy long, hot showers and relaxing baths. Designed with beauty and functionality in mind, bathroom tiles at TileArte provide the following benefits:

Exceptional durability
Porcelain tiles are designed for use in wet applications and places that receive plenty of foot traffic. TileArte features only high-quality porcelain tiles made to withstand not only water and moisture but also the test of time.
Wide range of design options
Porcelain tiles come in a nearly endless array of style options, so you never need to settle for conventional, common or boring designs. Whether you want a classic, elegant, colourful, rustic or quirky bathroom look, there's no shortage of choices available. Aside from the wide variety of textures and finishes available, porcelain tiles come in an array of colours and tones.
Resistance to mould
The low
porosity
of porcelain minimises water seepage, so moisture is not a problem. This prevents the growth of mould and mildew, as well as the proliferation of bacteria in your bathroom.

Low maintenance
The high density and low porosity of porcelain make it less likely for liquid, dirt and grime to penetrate your bathroom tiles. These qualities make porcelain tiles very easy to clean and extremely low maintenance.
Designer Bathroom Tiles Sydney
TileArte offers many different types of elegant and creatively designed bathroom tiles. Below are some of our popular bathroom tile collections that are sure to impress and inspire.
Anima Tiles
Our Anima marble-effect porcelain bathroom tiles are one of our most sought after in the marble-effect porcelain tile category. Anima is rich and versatile, with a fine, elegant gloss just like natural marble. Anima is available in six colours, namely Calacatta Oro, Statuario Venato, Grey St Laurent, Graphite, Marfil and Dark Emperador, and three finishes: matt, polished and silk.
The Anima range has further expanded into two other distinct marble designs: Anima Ever and Anima Select.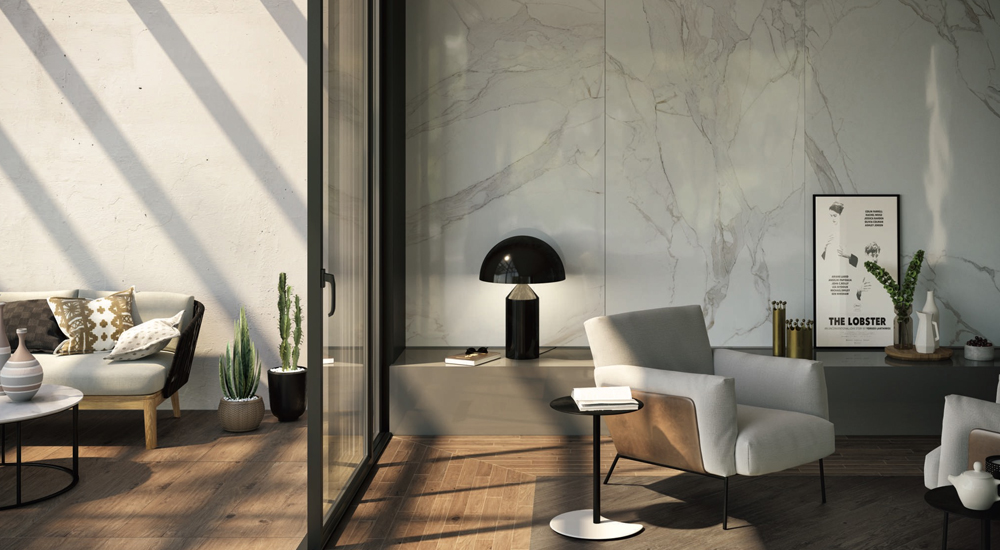 Arthis Tiles
As elegant and inspired as its real-life inspiration, Arthis wood-effect porcelain tiles are designed to transform your bathroom into an extraordinary experience of nature.
The Arthis range comes in matt and natural finishes and in four distinct handcrafted timber-like styles: Vapor, Natur, Oleum and Royal. Arthis also has two attractive décor options that replicate the appearance of saw-cut planks: Impression and Kerf. Both are designed to match the Vapor and Natur base tiles.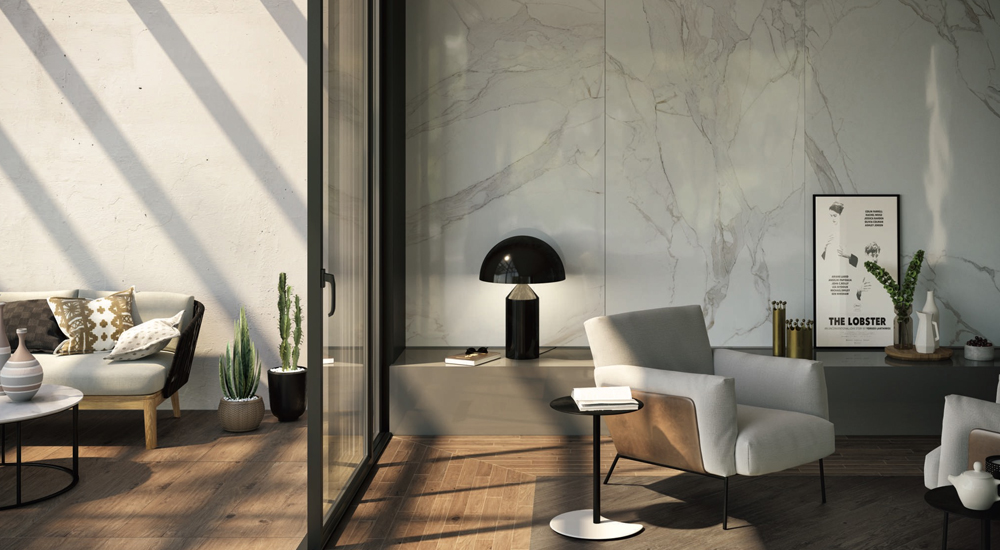 Bloom Tiles
Bloom colour-effect porcelain tiles come in a large format wall tile design. Bloom is meant to infuse your bathroom (or any room, for that matter) with the expressive personality of carefully curated wallpaper, but in a durable tile format.
The Bloom series comes in warm and cool shades of white, beige and grey, with brown and blue accents. Featuring four designs — Dandelion, Rose, Jungle and Delave — Bloom is all about unforgettable views and romance.
Portraits Tiles
Portraits is a series of stone-effect porcelain bathroom tiles inspired by different natural stones and named after them: Kirby, Stromboli, Fowey, Comblanchien, Faro, Tozeur and Versilia.
Available in bright (honed), matt and textured finishes, Portraits tiles can imbue elegance and uniqueness of character into any bathroom.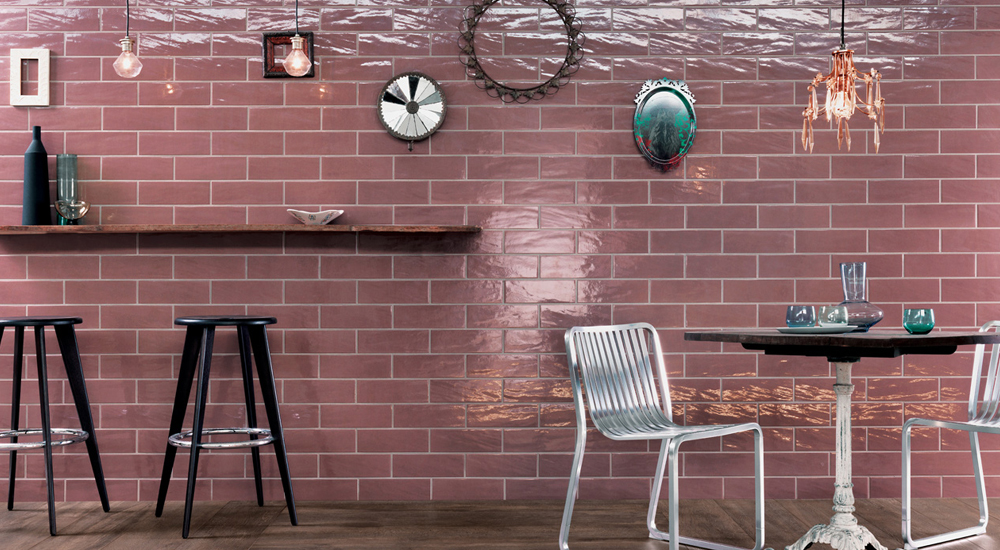 Manhattan Tiles
Manhattan is a trendy, contemporary porcelain stoneware colour-effect bathroom tile made in Italy, but inspired by the Big Apple.
The Manhattan collection lends a sophisticated yet handcrafted vibe to any space and comes in a wide range of metropolitan-inspired colours, such as grey, smoke, pearl, vintage, jeans, black, white, sand, and beige.
Lumina Tiles
The Lumina colour-effect and metal-effect collection of porcelain bathroom tiles optimises the beauty of a single neutral tone: white. Lumina tiles interpret whiteness in various finishes, using 3D effects that highlight its subtle beauty.
Lumina is made in Italy, so you are assured of superior craftsmanship and material quality. Its 3D effects include Diamante, Line, Square, Curve, Bubble, Grid, Cube, Ray and Rose.
Colour Line Tiles
The Italy-made Colour Line colour-effect porcelain bathroom tile collection is extraordinarily impressive in its use of expressive and elegant hues. The Colour Line range comes in six colours inspired by natural elements: the intense and elegant Avio, Salvia and Marsala, and the subtle and sophisticated Beige, Ghiaccio and Perla.
As one of the most in demand bathroom tiles in Sydney, it is also available in mosaic format, namely Round Mosaico, Deco Round Mosaic and Round Silver. Other collections in the same series include Colour Now and Colour Now Floor.
Elapse Tiles
Also made in Italy, Elapse concrete-effect and stone-effect porcelain bathroom tiles resemble rough-hewn stone that has been ravaged by time and which possesses a distinct kind of beauty unlike any other.
Available in a variety of gorgeous colour choices such as Neutral, Mist, Oyster, Cave and Pacific, Elapse tiles will bring your bathroom surfaces to life with their true-to-life renditions of stone and concrete. So if you're after a nature-inspired feel, Elapse tiles are a wonderful choice.
Aside from the above series, we have several other stunning bathroom tile collections you can choose from.

Call TileArte Today
For your bathroom tiling needs, TileArte porcelain bathroom tiles in Sydney are your perfect choice. View our full range of Sydney bathroom tiles here.
Whatever your design inspiration or colour scheme, you're sure to find the best bathroom tiles that resonate with your taste and preferences.
Visit our showrooms at Punchbowl and Willoughby to see for yourself or check out our products online.
For questions, comments or to set an appointment, call +61(2) 9759-6144.