EIKON – NATURAL INSPIRATION
April 24, 2016
The top 6 colour predictions of TileArte

Using these colours and or any other colour is easy as long as you understand levels and balance within a space. For example – talking kitchen splash back; If your using a marble bench (Carrara look), you might think; "I need to use simple tones, either a flat colour or a basic shape" but that's not the case!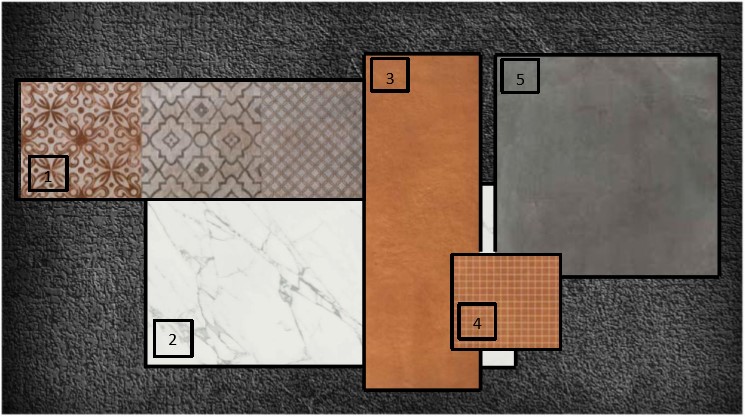 Kitchen main Splash-back: Creta – Décor,
Bench top,
Kitchen compliment splash-back option 1: Creta – Ocra,
Kitchen compliment Splash-back option 2: Creta – Ocra Mosaico,
Floor tile: One – Ground,
When using a stone as your bench top it is important to find the balance regarding tile and texture. The above image shows a Carrara benchtop with a decent amount of vein (texture) through it, to emphasize the traditional beauty of the material TileArte has matched with a burnt orange and grey tile that has a combination of traditional and modern patterns as the main splash-back and then also adding a block coloured burnt orange tile as the complimentary splash-back (stovetop location). This scheme allows the benchtop to shine with a WOW factor.
---
The images below showcase other trendy methods of incorporating colour, texture and shapes whilst respecting the materials surrounding the space. Creating the loft look; TileArte has done this by using soft pastel tones within geometrical shapes to compliment the raw, hard materials. Tile: One – Mix Deco
Creating the Urban look; TileArte used a bold rustic colour, textured tile to instantly create drama and interest within the zone. As the kitchen bench is gloss black and has stainless steel appliances, this large format tile enhances the space and automatically adds modern day appeal. Tile: Trace – Mint Making any space shine can be as simple as tying your shoe laces, as long as you come and see us at TileArte!!!